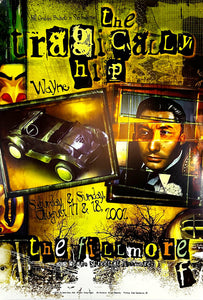 The Tragically Hip Original Gig Poster At The Fillmore - August 17 & 18 2002 - RAFFLE!
0001-4001-0460
Regular price
$20.00
$0.00
Unit price
per
RAFFLE TICKETS STILL AVAILABLE - PURCHASE THIS BALLOT FOR YOUR CHANCE TO WIN!
NOW NO LIMIT ON ENTRIES - PURCHASE AS MANY BALLOTS AS YOU WOULD LIKE TO SUPPORT THIS GREAT CAUSE.  ALL PURCHASES ALREADY MADE STILL VALID FOR ENTRY.
10 vintage posters unearthed from our vault.  13" X 19" 2002 At The Fillmore posters. 
Available by Raffle (waffle) only. Limited to 250 ballots. 10 posters will be awarded by random draw once all ballots are sold. Winners will be contacted directly via email. No other purchase is necessary.
Net proceeds from this raffle will be donated to the Seeds of Hope Foundation.
"We always looked forward to gigs at The Fillmore. It was and remains a truly iconic venue for both band and audience (we actually measured our spacing on the stage there and used that as a template to be replicated wherever possible). One of the things that made each show there such a special occasion was their long-standing tradition of creating show posters. A look through the poster art of the Fillmore, through the years, is a tour through the history of both modern music and graphic art."
Rob Baker
---
Share this Product