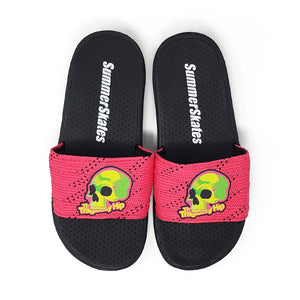 OUCH SUMMERSKATES - PINK
0001-2000-0595-2XL-PNK
Regular price
$32.00
Sale price
$40.00
Unit price
per
OUCH SKULL sandals can be gym sandals, spa sandals or lounge sandals - rock these any and everywhere.
SummerSkates sandals made with real sport laces are the perfect complement of comfort, performance, value, and sports fashion. Designed for all-terrain use indoors or outdoors, you will be able to show your game at all times of the year from the locker room to the street to the beach.

Custom Logos are STAHLS premium sublimated twill logos that are permanently adhered to SummerSkates 100% Polyester sport laces. Custom SummerSkates are Washable | Air Dry friendly to remain clean, healthy, and fresh for your active lifestyle.
Size Chart:
XSmall          9"
Small             9-1/2 "
Medium        10"
Large              11"
XLarge           11-1/2"
XXLarge         12-1/2"
---
Share this Product